No, al final no vino Neville Staple. Fue ya la segunda vez que se frustra una show del ex Specials en Buenos Aires, no? Una pena. Según puros trascendidos, el problema habría sido la suspensión del concierto en San Pablo, lo que comprometió la viabilidad del tour sudamericano. Vaya a saber. Por lo pronto, el comunicado oficial de Neville sobre la cancelación no cargaba sobre la producción argentina.
Satélite-In-Blog, créase o no, de todos modos tuvo la oportunidad de entrevistar en exclusiva a Mr Staple, por teléfono. Pronto publicaremos dicha conversación, que sin ser candidata a los 2014 Ska Journalism Awards, tuvo lo suyo.
¿Alguien sabe de alguna otra visita para este año? En mi humilde, la gran figurita faltante sería Toots, otro show frustrado no hace tanto.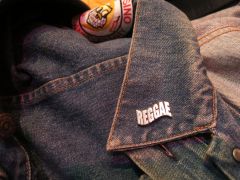 Por lo demás, entre muchas otras cosas durante estas sigilosas semanas bajo el radar, el equipo completo de Satelite-In-Blog aterrizó en los últimos días en Washington DC, las fauces mismas del monstruo capitalista, el corazón del Imperio del Mal, "you don't get much more Babylon than that", como diría mi amigo J.P.
En un año que empezó, con este mismo equipo, grabando early reggae en un garage en Nueva Zelanda, siguió en un bar de Yakarta hablando de Satélite Kingston con media docena de rude boys indonesios, ahora la cosa terminó en los Cue Studios, de Falls Church, Virginia, para atestiguar una impecable sesión de la incomparable Caz Gardiner junto con Teddy Dos Dedos García.
La historia es complicada. Teddy Dos Dedos es un músico andaluz. Durante años fue tecladista y compositor y arengador supremo de los Granadians, la gran banda regay del sur español. Teddy luego migró a Inglaterra, pasó por Alemania y terminó en DC, hace unos cuatro años. Obvio, no tardó en conectarse con la crema de la crema de los sonidos jamaiquinos en la región. Cosas que, aclaremos, no tiene nada que ver con los proto rastas blancos de SOJA, otros washingtonianos, frecuentes visitantes en Buenos Aires.
Teddy, además, estuvo hace algo más de diez años en Buenos Aires. En esa oportunidad, fue huésped del célebre Ska Hotel, sobre Avenida de los Incas, que muchos amigos paulistas, españoles y norteamericanos y chilenos recuerdan bien (o más o menos). Además, en Buenos Aires, el Granadian grabó algunas teclas para la Sonora Brixton. Y coincidió, años más tarde, en México con los Aggrotones, con quienes también hizo muy buena onda.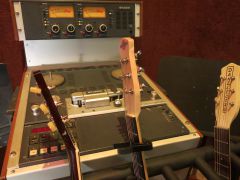 Entre tanto cruce casual, o no tanto, quién te dice, Teddy o Manolo terminó en Washington DC como teclista de Caz and The Day Laboreres, con algunos buenos amigos de Satelite-In-Blog, que el año pasaron estuvieron tocando por acá (Argentina), junto con Jochi Descalzo como baterista muleto y un seguro servidor en teclados. Hay que aclarar algo más: con Jorge P, de los Day Laborers, no nos conocimos en ninguno de los mencionados lugares sino en… ¡San Pablo!
El mundo es un pañuelo… a cuadritos blancos y negros, ya se dijo. Buenos Aires, Auckland, Yakarta, DC, Falls Church, Granada, San Pablo. Gracias.