(tomado de The Independent online; atención a los comentarios de los lectores, abajo. Obviamente la noticia está saliendo en los medios argies también, pero es mucho más interesante leerla "allá")
Morrissey: Falklands 'belong to Argentina'
Former Smiths frontman Morrissey has waded into the row over the
Falkland Islands telling the audience at an Argentinian gig that they
"belong to you".
The singer, who counts Prime Minister David Cameron among his fans, made the remarks during a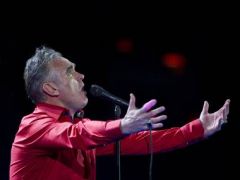 concert in Cordoba, Argentina, yesterday.
He said: "You know of course the Malvinas Islands, everybody knows they belong to Argentina so please do not blame the British people, we know the islands belong to you".
He is the latest in a line of celebrities to voice their opinion amid heightened tensions between Britain and Argentina over the islands, which led to the two nations going to war in 1982.
Earlier this week, former Pink Floyd star Roger Waters said the islands should belong to Argentina, according to a TV presenter who interviewed him.
Chilean host Amaro Gomez-Pablos claimed 68-year-old Waters made the comments in an interview.
Waters has taken a strong anti-war stance for many years and aired his opposition to the Falklands War in Floyd's 1983 album The Final Cut.
Last week, US actor and director Sean Penn aired his views on the subject.
He said the UK should join in UN-sponsored talks, adding: "I think that the world today is not going to tolerate any kind of ludicrous and archaic commitment to colonialist ideology."
Comments:
Morrisey in "performer tells audience what he thinks they want to hear....shock" !!
Who gives a crap.
A Like Reply 0 minutes ago 0 Like
On the map, I notice that the Falklands are an awful lot nearer to Argentina than they are to Britain.
Similar sort of distance as the Isle of Wight, or the Isle of Man, is to mainland Britain.
A Like Reply 14 minutes ago 0 Like
F .
Like most English born people living in Buenos Aires i also know the Malvinas are Argentine.
London is a 13 hour flight away from buenos aires and further still from the Malvinas
A Like Reply 46 minutes ago 3 Likes F .
You live in Argentina and you accept (not "know") Argentina's claim to sovereignty over the islands. OK, That's absolutely your right.
The Falkland Islanders live in the Falklands and they "know" something different: That's absolutely their right.
A Like Reply 3 minutes ago in reply to windyculo 0 Like
F .
Allow me to correct an inaccuracy in the article...
Morrissey doesn't count David Cameron as a fan... He actually discounts him as one since he's said that he bans Cameron from liking The Smiths.
A Like Reply 1 hour ago 5 Likes F .
I don't recall him asking the British people before speaking for us.
A Like Reply 1 hour ago 8 Likes F .
Like most Lefties who have done well out of the 'Arts', he has a nice large house.
It seems that some socialists are more equal than others - I don't know why people listen to their politics.
A Like Reply 1 hour ago 6 Likes F .
Malvinas Argentinas ahora y siempre!
A Like Reply 1 hour ago 3 Likes F .
Sad so sad. I used to like Morrissey.
A Like Reply 1 hour ago 2 Likes F .
For all the celeb's the issue on the Falkland Islands is one of ' Self - Determination '.
These opinionated and badly informed declarations are quite pathetic, and only make these celebrities look like fools.
A Like Reply 1 hour ago 6 Likes F .
Every way the wind blows, hey, has-been?
A Like Reply 1 hour ago 11 Likes F .
Mozza, stick to the music and have a nice Argentinian steak while you're out there.
A Like Reply 1 hour ago 7 Likes F .