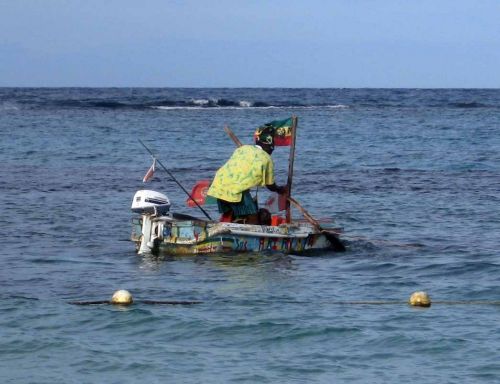 Compromisos laborales me tienen de un lado a otro en Montego Bay y Ocho Ríos. Playa? Disquerías? Ni hablar… La playa está cerca, pero por ahora intocable. Los discos, la verdad que ni idea. Debe haber, sí, pero es complicado… La gente local no es muy dada a las referencias exactas. Incluso los que tienen buena onda, no son del todo comunicativos. Y si lo son, no resultan muy precisos. De todos modos, mi situación tampoco da para irme a explorar demasiado. Me dicen que quizás en Negril, donde iré en un par de días, la cosa sea un poco más accesible. Habrá que ver. El mundo de los turistas y extranjeros está bastante separado del mundo jamaiquino real.
Mientras tanto, ya es todo un viaje y mirando por la ventanilla del auto las casas y, sobre todo, los negocios y los bares junto a la ruta. Las fachadas están pintarrajeadas con dibujos de, por ejemplo, botellas de cerveza, en el caso de los bares, o de cualquier otro producto que se venda en determinado lugar; todo muy kitsch. Jamaican Kitsch.
Acabo de aprender el segundo chiste Jamaiquino: "Habrá sido esa la última lluvia del día?", le pregunté a un barman (sorpresa!) después de un chaparrón a media tarde. "Eso? No, mon, eso no es lluvia, eso es sol líquido, mon!"
Le festejé el chiste y me fui con mi ron con Coca diciendo "I'll be back". "Yeah mon, come back: more rum, more fun!". Me quedé pensando un buen rato en lo raro que es mi trabajo…
En Ocho Ríos sí me asomé a la playa. Ocho Ríos es otra localidad, el lugar turístico más cercano a Kingston. La diferencia con Montego Bay y Negril, es que a Ocho ríos van de vacaciones, también, los propios jamaiquinos. Eso es algo que no sabía, y que es distinto, por ejemplo, de Cuba. En los hoteles cubanos no te cruzas con clientes cubanos. Pero acá sí, la familia (de clase media alta, supongo) jamaiquina accede a lo mismo que el turista americano. Y de hecho los ves a todos jugando al volley en la pileta...
Hay algo más interesante. Frente a la playa de los hoteles, se "estacionan", digamos unos 50 metros mar adentro, unas lanchitas o unos jetski, con jamaiquinos que venden "cosas" a los turistas. Si los viera capusotto diría, no muy equivocado, que venden faaaaasssoooooo. Como no les permiten estar en playa misma, lo hacen "offshore", como el simpático fisherman a lo Heart Of The Congos, de acá arriba.
La verdad, de intentar comprar algún souvenir canábico, no se me ocurre que exista otra posibilidad que no sea que intenten estafarme. Eso pienso...