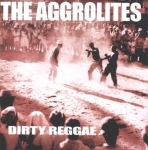 Toda una paradoja: "Dirty reggae", el gran CD de The Aggrolites", ya casi tiene dos años, pero sigue pareciendo nuevo. Y a la vez es uno de los discos de reggae contemporáneos con un sonido retro mejor logrado. ¿Contradictorio? En realidad es simple y coherente, y vale la pena reescucharlo mientras se espera que salga el sucesor.
Por un lado, los cinco californianos de The Aggrolites evidentemente se pusieron la meta de reproducir el sonido early reggae de Trojan, por nombrar una referencia conocida por todos. Y lo hacen bien, justo en el momento en que el early hacía furor en lo más "cultiva" de la escena jamaiquina mundial. Pero por otra parte tuvieron el buen criterio de no reprimir su propia personalidad. Lo cual tiene mucho sentido: si algo caracterizaba a ese reggae pionero, digamos "pre Island", era la experimentación, la búsqueda, además del tremendo groove, que resultaba en temas donde podían aparecer hasta efectos de sonido, sin ningún problema.
En "Dirty reggae" los Aggrolites tienen algunos momentos bien soulful y otros febrilmente funky; usan instrumentos vintage y graban (aparentemente) en vivo, según las reglas del género (o del subgénero, en todo caso. Pero siempre cuelan también alguna cosa que nos hace decir "bueno, esto no se los escuché nunca a los Upsetters..." En temas como "Pop the trunk" o "Keep it cool" la influencia early o skinhead es total, pero siempre combinada con un sonido único. Quizás "Women's rules" sea el ejemplo más claro: la letra se parece mucho a esas canciones jamaiquinas con temáticas y enseñanzas bíblicas medio trastocadas, pero la cadencia y la melodía (¿una flauta?) no se entiende bien de dónde vienen.
Entonces uno va y busca en Internet alguna entrevista con el guitarrista Brian Dixon, el "inventor" de los Aggrolites. Y encuentra la respuesta: el tipo reconoce que tardó apenas unos días en componer los temas y unas diez horas en grabar la base fundamental del CD. Porque la verdad es que casi todo en "Dirty reggae" es improvisación, como si fuera una fiesta de cinco fanáticos, registrada y después remezclada por un Lee Perry de excelente humor y con ganas de divertirse. De hecho el mismo grupo se formó a partir de jams de early reggae entre amigos. Y se nota. Por suerte.